swatch: when the wearer just watches
last weekend was christmas shopping weekend. my brother, sister-in-law, and cheeky nephew who doesn't know how to speak tagalog were over here in manila for a weekend vacation. it was a one peso-fare affair.
the first day, we went to the mall right away where my brother decided that he was going to get me a swatch watch as a christmas gift. hence, my sister-in-law and i visited the swatch shop to pick out a watch that was going to be mine.
it was there that i promptly fell in love, torn among so many attractive wristwatches! i never realized before then how swatch had so many seriously appealing watches in their store! it was a revelation, kind of like looking for something and never knowing it was just there all along! i marveled that i never looked in their direction; i had been always in love with something else.
at some excited point, the competition over my Next Top Watch dwindled down to this sweet multiple-chain-y little thing with pink hearts and a few other choices. i was distracted with the bracelet-y, chain-y watch because it was dainty, which was very disarming, and also because it had pink hearts! you know, hearts! that are pink! pink hearts! seriously, who can turn down pink hearts?!
in the end, though, i rejected the pink-hearted watch, with some sadness, judging it to be too adolescent. previously, i had never really objected to things that were adolescent-y, but i work now and will continue to be working in the forseeable future, so i decided against the more frivolous-looking watches and leaned toward the more professional-looking.
i got myself a very proper watch, silver and standard and, as per requirement, professional-looking. it's the kind of watch that doesn't rebel and doesn't color outside the lines. in professional company, you could not go wrong with this watch. but the interesting thing about this watch that i got is that it's only professional-looking if you don't look too closely. once you try to zoom in to appreciate its details, you will find that it's really a real treat of a watch, the kind that has its secrets.
the beauty of it is that...it has flowers. flowers! mmm! if you can't get hearts, get flowers! the face of the watch is set against this backdrop of shiny, romantic blue and a design of a flower adorns the center, providing its defining attraction. it has diamonds on the sides and more flowers with stems.
she. is. awesome. striking! and crazy-beautiful! i'm just, like, staring at her all the time and wishing she had a name! something mysterious and profound, you know, like, "girl with a pearl earring". she should be like - "watch with the blue flower".
it's a watch that i just love to watch. hopefully, it will make me a better person - more punctual and more able to keep track of time. hehehe. here is a picture of the watch taken from the internet: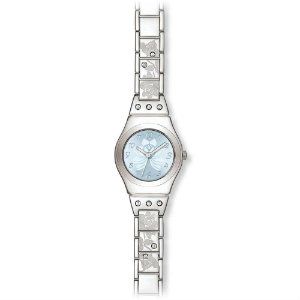 all my thanks to my brother for the lovely, crazy-beautiful watch and thanks to its makers! :)